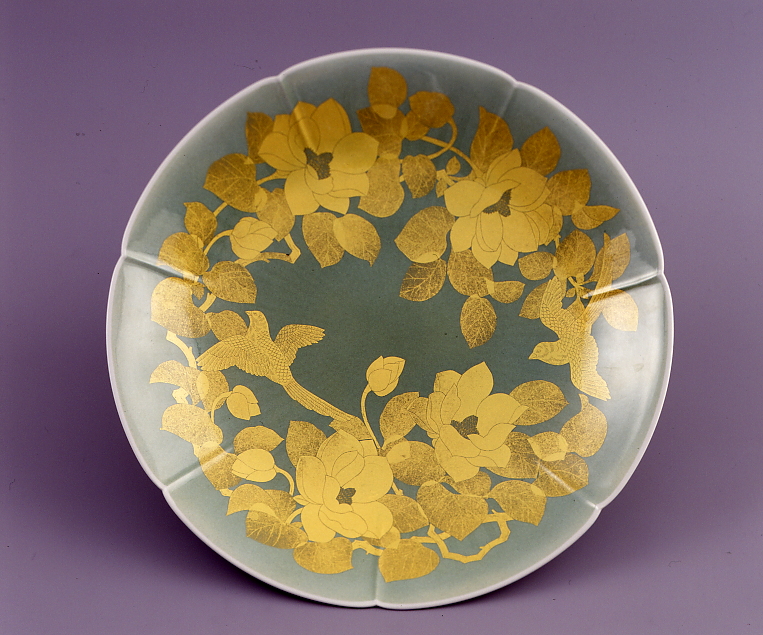 About Event
In this exhibition, we focus on the different ways in which gold leaf is applied to Japanese art and craft works. In painting, such as folding screen, gold leaf is frequently used for making golden background. In costume, such as nō robe, you will see gold thread made by pasting gold leaf on traditional Japanese handmade paper, then shredding it into threads. In kirikane, several sheets of gold leaf are baked and attached to each other, cut into the thin and small shapes, and then applied to the surface of the work. In chinkin technique of lacquer art, gold leaf powder made by grinding gold leaf is rubbed into the engraved surface of lacquered body. Gold leaf powder is also used as kindei (gold paint) which is made by dissolving gold leaf powder in animal glue. You will see kindei applied to painting as well as to sculpture, ceramics and lacquer art.
Benefit information
・Forum on preservation of cultural properties and gold leaf industry November 20, 13:00~16:00, Seminar room 3rd floor
・Panel displays "Conservation and restoration research on gold leaf used in cultural heritage buildings.          October 20~November 26, 9:30~17:00, Multi-purpose Exhibition Hall 1st floor
Kanazawa Yasue Gold Leaf Museum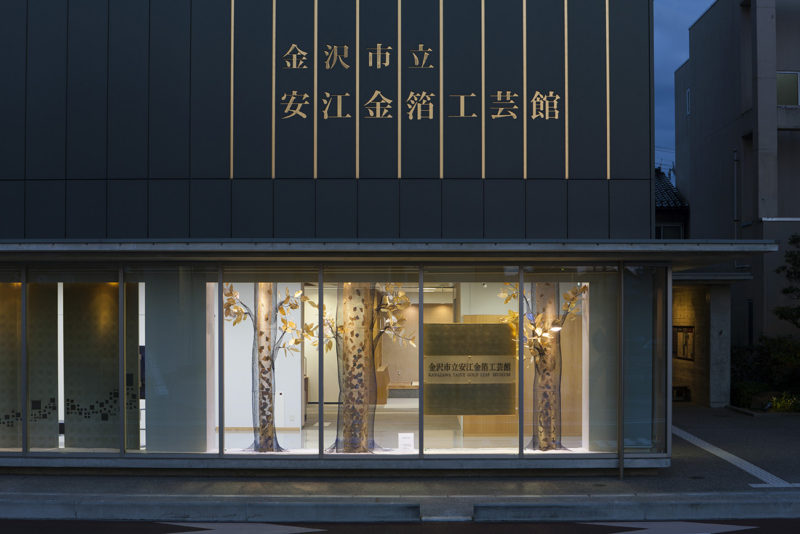 Facilities / Organizations information
| | |
| --- | --- |
| URL | http://kanazawa-museum.jp/kinpaku/ |
| Times | 9:30am-5:00pm(No admission after 4:30pm) |
| Tel | 076-251-8950 |
| Fax | 076-251-8952 |
| Mail | kinpaku@city.kanazawa.ishikawa.jp |
| Address | 1-3-10 Higashiyama,Kanazawa,Ishikawa, 920-0831 JAPAN |
The Essence
Our museum, situated in the downtown of Kanazawa City which produces 99% of gold leaf in Japan, is the one and only gold leaf museum in the world. We introduce to the visitors all the aspects of gold leaf by presenting the process of making gold leaf and the related tools as well as art and craft works embellished with gold and gold leaf. We have collected around 300 pieces, most of which are Japanese works from the early modern period to the present day, including Budddhist statues and altars, paintings such as byobu and kakejiku, Noh costumes, lacquerware such as Kaga maki-e and Wajima chinkin, metal works such as Kaga zogan, ceramics such as Kutani yaki and glass works. We have three exhibitions from the collection and a special show every year.
Discoveries
Multilingual services for foreign visitors.
・Brochure in English, Chinese (original and simplified characters), Korean, French
・Captions and explanations in English
・Video-subtitles in English and French
・Museum tour in English and French
Brief history
The museum was founded in 1974 by Mr.Yasue Takaaki, a gold leaf artisan himself, who was eager to hand down "the pride and the legacy of craftsmen" for future generations. In 1985, the museum was donated to the city and moved in 2010 from the original place, Kitayasue, to the present location, Higashiyama, an area with a close connection to gold leaf. The gold leaf workshops began here at the end of the Edo period, and today, artisan maintain the tradition by still living here. The exterior design of the new museum is inspired by the architecture of Kanazawa's traditional storehouses. Gold leaf is applied throughout the building. In the lobby, you find an impressive stairwell to the 3rd floor .
Event history for Kogei
・Craft works in Kirikane by NISHIDE Daizo (2012)
・Kaga inlay works – art &design – (2012)
・Development of contemporary arts and crafts – Kaga yuzen, Kaga zogan, Kutani yaki, Lacuerart-(2013)
・Japan Gold (2014) ・Japan GoldⅡ (2014)
・Development of contemporary arts and crafts 2015 -metal and lacquer works- (2015)
・Avant-garde of craft in Kanazawa (2016) ・New Year Celebration (2016),
・Gold leaf in art and craft (2017)