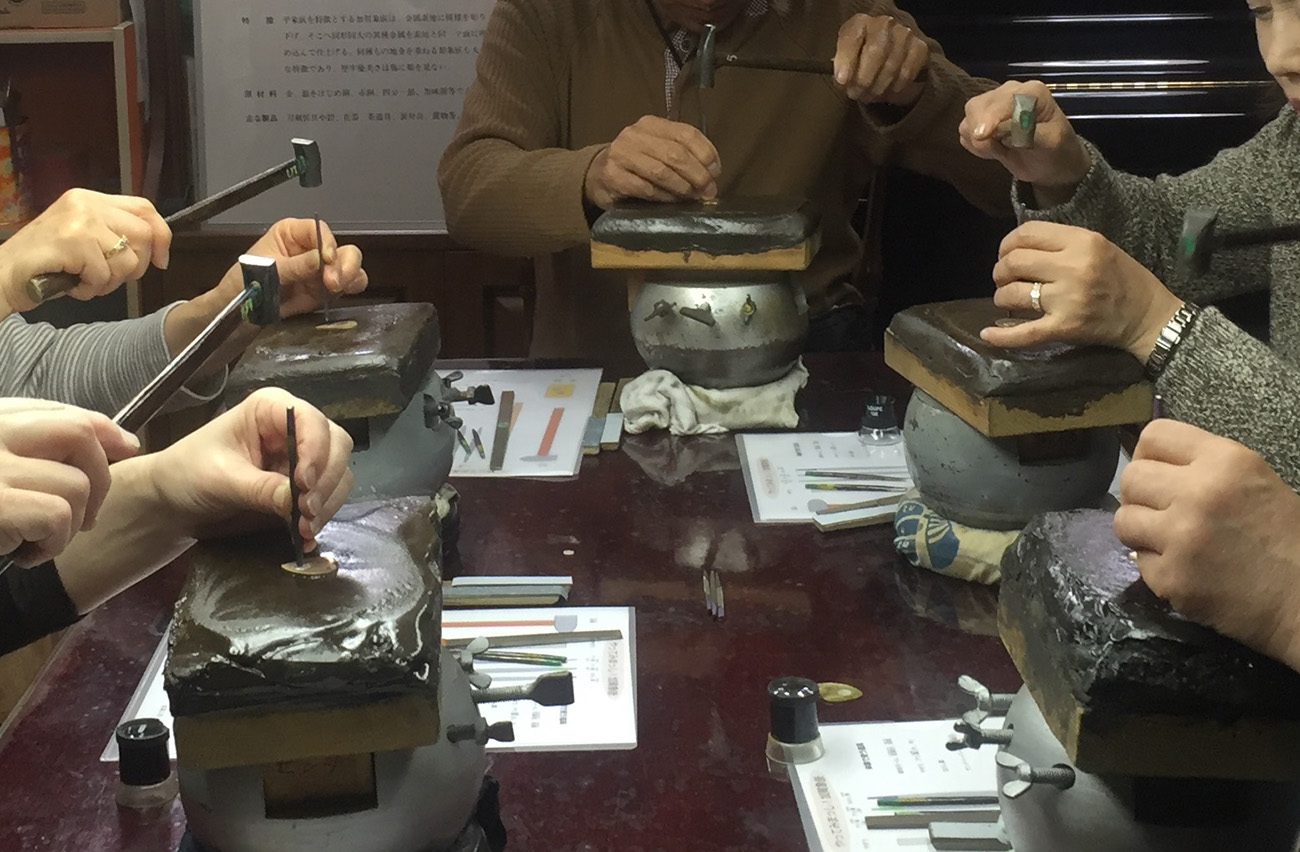 About Event
Kaga inlay is a traditional technique passed down through generations since the Edo Period (1603 to 1868).
Designs are created by carving the surface of metal pieces and inlaying metals of different colors.
At KAZAWA BISHO Metal Crafts Studio, participants will first be given an explanation of the history and techniques of Kaga inlay as well as how to use the tools. After that, participants will create a Kaga inlay item by themselves using tools that were handed down from the studio founder and a technique unique to Kaga inlay called hira (or "flat") inlay.
Using a brass plate with a design that has already been carved, participants will inlay thin silver and bronze sheets using a chisel and will finish the item by polishing it with a file and sandpaper.
The item can be taken home as a keychain or a pendant.
Even if you are a beginner, you will be able to relax and enjoy the craft activity as artisans will give kind and detailed guidance. Please join us at our studio for a casual workshop!
Benefit information
We will give an inlay demonstration to visitors who show us the 21st Century Takagamine Forum in Ishikawa/Kanazawa Guidebook or make a pose that represents "foreseeing the next 100 years."
Events & Exhibitions Information
Times
10:00 to 17:00 Closed on Sundays, Holidays, October 16, and October 17
Admission fee
2,160 yen
体験は、要予約(5日前までに、2名様以上でお願いします)
Tel
076-261-3919
Address
8-33 Hyotan-machi, Kanazawa City
Transportation
Ten-minute walk from Kanazawa Station.
Ten-minute walk from Omicho Market and Musashigatsuji bus stop (Hokuriku Rail Road buses).
URL
http://bisho-koubou.com
Inquiry
076-261-3919
kazawa@bisho-koubou.com

The Essence
A studio with 100 years of history.
Bisho Kazawa II was born and raised in Kanazawa City, Ishikawa Prefecture. Traditional techniques and skills were passed down to him from Bisho Kazawa. He runs the studio as a silversmith using techniques of Kaga inlay, a rare traditional craft, and other inlay techniques. Our studio performs all process steps from melting metals (blending of raw materials), forming (forging and joining), burnishing with a charcoal piece, polishing, to coloring.
We create works using all inlay techniques including sen (or "line") inlay, nunome (or "fabric texture") inlay, hira (or "flat") inlay, and takaniku (or "high-raised") inlay.
We will continue to cherish the traditional culture of Kanazawa that has been fostered since the Edo Period, and to pass our techniques down to subsequent generations.
Discoveries
Our studio has been running for nearly 100 years since it was opened by Bisho Kazawa.
At our craft activity workshop, participants try out Kaga inlay using tools that have been handed down from our founder.
At our gallery, we display Kaga inlay and metal craft works.
Brief history
The studio was founded by Bisho Kazawa nearly 100 years ago and the Kaga Inlay Preservation Association was established by Bisho Kazawa II for passing Kaga inlay, a rare traditional craft, down to successive generations. At the studio's gallery, we display and sell our Kaga inlay works created with the traditional techniques and skills that have been passed down to us. Our past works include custom-made metal parts for the Imperial Household Agency and Todai-ji temple and parts based on traditional techniques for the pillars of the Kanazawa Station Hokuriku Shinkansen concourse. We also periodically hold an exhibition called Soginkai-ten.
Event history for?Kogei
Soginkai-ten exhibition (Since 1982)
Kaga Metal Crafts and Kaga Inlay Works of Bisho Kazawa and Pupils exhibition (2002)
Joint Exhibition of Echigo Inlay and Kaga Inlay (2012, 2014)
Oshare Messe 100 People x 100 Items exhibition (Since 2013)
Kanazawa Town Exposition –– Town Exposition for Kids (Since 2015)
Kaga inlay workshop at our studio for fourth graders of Kanazawa Meisei Elementary School as part of the national comprehensive learning program (Since 2015)
KOGEI Festival (2016)
Kanazawa Kogei Story (2016)