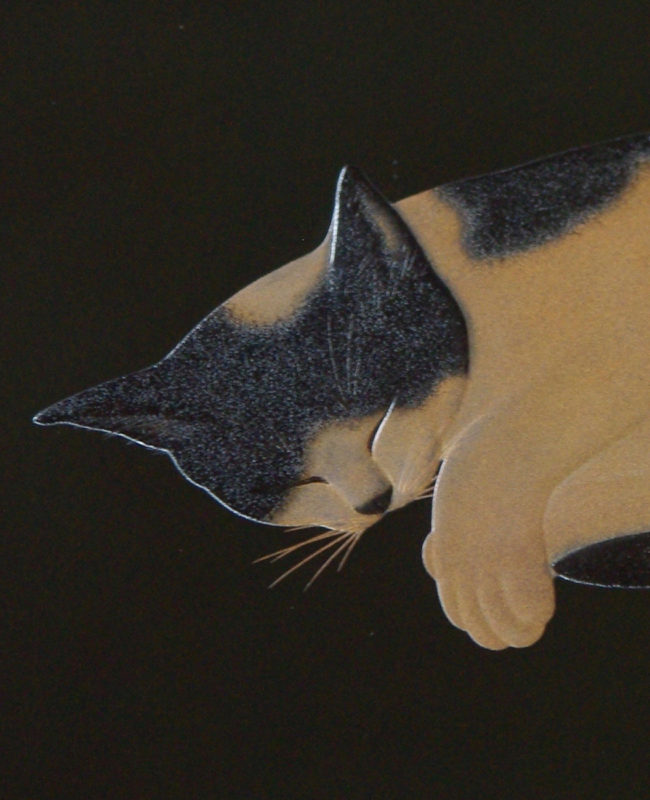 About Event
Kanazawa urushi art Compare: The present development from KAGA MAKIE urushi lacquer art
This grand exhibition will display works created by members through the 50 years since the association's establishment and the association's originally developed works. The exhibition is an attempt to identify the possibilities of present maki-e/lacquer art by presenting the development of works from those created by the generation that directly learned skills from the Edo period to those belonging to the current kogei (roughly translated as "craft") genre. Together with the introduction of our activities regarding materials, techniques, and training, this exhibition rethinks lacquer art.
Benefit information
The first three customers who purchase Kanazawa maki-e sake cup and show the official guidebook during the two periods (Oct. 6 to 9 and Oct. 19 to 22) will be given a sake cup carrying bag made of Ushikubi silk.
Sold at: Nosaku (Located next to Kanazawa City Hall)
Events & Exhibitions Information
| | |
| --- | --- |
| URL | https://www.kanazawa21.jp/data_list.php?g=7 |
| Times | 10:00 to 18:00(最終日は17:00まで) |
| Close | 会期中無休 |
People's Gallery A (1F) at the 21st Century Museum of Contemporary Art, Kanazawa
Facilities / Organizations information
| | |
| --- | --- |
| Address | 1-2-1 Hirosaka, Kanazawa City, Ishikawa, Japan 920-8509 |
| Tel | 076-220-2800 |
Special spin-off exhibition
*Special spin-off exhibition at Kanazawa Nakamura Memorial Museum 1F
Hyomon Maki-e Mt. Fuji Partition (Collaboratively created by the KANAZAWA URUSHI ASSOCIATION members and supervised by Shogyo Oba)
The Essence
Maki-e is a craft technique unique to Japan; with 1,300 years of history this techniquehas been praised as the flower of kogei. Ever since the lords of Kaga Domain, or the heads of Maeda Family, summoned masters with the highest level of skills to Kanazawa, maki-e artisans of the region have been creating a diverse range of beautiful "flowers" throughout the 380 year history of Kaga Maki-e. KANAZAWA URUSHI ASSOCIATION was founded 50 years ago for the purpose of passing this tradition down to successive generations. While the term "maki-e" refers to a technique for decorating lacquerware, the term "Kaga Maki-e" encompasses not only the techniques involving the shapes, the raw wooden forms, and lacquer coatings on which maki-e is applied but also the spirit of Kaga Maki-e. Over its long history, local people have been using the word Kaga Maki-e in this sense. Directly reflecting the taste of samurai culture that integrated the culture of court nobles, local people have perpetually sought for styles that feature dynamic gracefulness as well as purity, elegance and refinement. Accordingly, a diverse range of purposes as well as techniques and expressions developed in this region. This diversity is conveyed by the works of the members of KANAZAWA URUSHI ASSOCIATION. We hope that our lacquer artwork speaks of our efforts to seek the dignity and originality of Kanazawa while embracing diversity.
Discoveries
During the following periods of the Kanazawa Maki-e Sake Cup: Good Sake Good Food event, a special menu item (available on a limited basis) that includes the use of Kanazawa maki-e sake cup will be offered at Fusion21, the cafe & restaurant of the 21st Century Museum of Contemporary Art, Kanazawa. Enjoy special time with good sake and good food.
Exhibition periods: Nov.[訳者注:Oct.でしょうか] 9 to 19, Oct. 18 to 22, Nov. 9 to 19, and Nov. 22 to 26
Brief history
Established in 1966 by 17 willing maki-e (lacquer decoration with gold/silver) artists based in Kanazawa. The association currently has 30 members. Kaga maki-e was developed in Kanazawa of the Kaga Domain. The activities of the association focuses on reviewing and learning from the nearly 400-year history of Kaga maki-e and creating contemporary works of maki-e/lacquer art while simultaneously creating aesthetic works for an enriching lifestyle. Annually holds the KANAZAWA URUSHI ASSOCIATION Exhibition which features works by the association's members. Creates and releases works originally planned and developed by the association. Holds lectures, sessions for detailed observation of artwork, and training sessions featuring on-site guidance, skills, design, and reproduction. Implements collaborative projects. Plants lacquer trees. In addition to providing training for creating maki-e art, explores the possibilities of lacquer art under the theme Lacquerware for Everyday Life through the creation and release of works designed by members. The association also engages in activities to promote and popularize lacquer art by, for example, lending Kanazawa maki-e sake (Japanese rice wine) cups for free, holding the Kaga Maki-e Forum, and introducing maki-e through the materials & tools display and gallery talks at the KANAZAWA URUSHI ASSOCIATION Exhibition.
Event history for Kogei
– KANAZAWA URUSHI ASSOCIATION Exhibition (works of members) Held annually since 1967 (49 times)
– KANAZAWA URUSHI ASSOCIATION 50th Anniversary Commemorative Forum "Why Use/Collect Kaga Maki-e Today?" 2016 – Creation of Kanazawa lacquer art samples 2017
– Accepting entries for "Lacquerware in Your Future: Grand Prix" since 2014
– Training sessions and lectures regarding lacquer art materials (Displays and gallery talks at KANAZAWA URUSHI ASSOCIATION Exhibition) (Incorporation into the association's theme-based works) (Tour of Joboji lacquer production sites)
– Planting lacquer trees since 2011
– Implementing collaborative projects since 2011 (Joboji lacquer (Ninohe City, Iwate Prefecture)) (Kanazawa Nakamura Memorial Museum: Detailed viewing of artwork and reproduction of some artwork from the museum's collection) (Industrial Research Institute of Ishikawa: Skills exchange sessions, properties of lacquer, 3D printer) (Exchanges with the lecturers of Kanazawa Craftspeople Club)
– Training sessions and lectures (materials, skills, art appreciation, etc.)
– Collaborative creation of art by members (Another Idea: Patchwork Lacquer Art 2008) (Hyomon Maki-e Mt. Fuji Partition supervised by Shogyo Oba, To be displayed at the first floor of Kanazawa Nakamura Memorial Museum during this event)
– Annually creates and releases works based on the designs developed by members for the theme Lacquerware for Everyday Life since 1987 (74 items)
– Creation and free lending of Kanazawa maki-e sake cups since 2014
– Published commemorative publications on lacquer art (Kanazawa Shitsugei / Kaga Maki-e 1989, Kanazawa Shitsugeikai (presents the association's theme-based works and drawings of the wooden base forms) 1993)